photo taken by zjw 2007
biography
cv
collaborations
compositions
engineering
sound art
media
albums
contact
____________________________________________________________________
NEWS
2018
2017
2016
2015
People of Good Will
Exciting Sites of Opposition I from zachary watkins on Vimeo.
Documentado Undocumentado
EARTH EUROPEAN TOUR
HIGH VIBRATION RESONANCE VOLUME ONE
2014
MIXED RACED LP
EXPLORATORIUM RESONANCE 10/9/14
YBCA 10/4/14
Of Deconstruction Cassette Sige Records 2014
Of Deconstruction Summer Tour Aug.21-30th
CNM 5/3/14
Siete Potencias Africanas 5/2/14
Mills College 4/30/14
El Siam 4/26/14
S I G E
R E C O R D S
U P C O M I N G
R E L E A S E S
B L A C K S P I R I T U A L S
Active
Music
Festival
AMF
movable:
long commutes between loved ones
music for motors and resonant strings

CONVERGE
new collaborative works
YBCA
JAN 16
2013
P I T C H
B L A C K
@
C U L T
DEC 20
L C M
F E S T I V A L
B L O O D
R E D
DEC 7

H O U S E
O F
L O W
C U L T U R E
OCT 2
SUN RA ARKESTRA
BLACK SPIRITUALS
KUUMBWA
AUG 2
B A M / P F A
TRIO 2
JULY 26th
BACK SPIRITUALS
BLACK LISTENING
TOUR
Arcata @ Mexi-Wow
Seattle @ Gallery 1412 w/ Kaori Suzuki/Jonathan James Carr/ Monktail
Seattle @ BARBQUE
Portland @ Disjecta w/ Daniel Menche, The Tenses
black spirituals
live in santa cruz
featuring marshall trammell
B A M / P F A
Spring 2013 Season
Friday February 1
Sunday January 20
2012
C H I D O
Friday November 30
sfemf wire review nov 2012
Tuesday November 13
Friday October 12
Thursday October 4
picture taken by
Yannis Adoniou
Monday August 17
Friday July 13
T E M P O R A L I T Y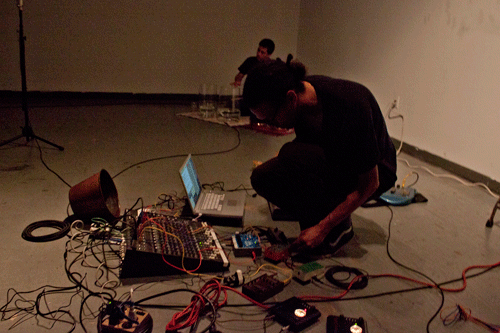 T HE BE G I N NI NG
April 2nd
Happening
April 6th April In Santa Cruz Festival Premiere of "Treatment No.2 for Harmonic Stirngs" (Guitar Quartet)
April 2nd Mills College Songlines Series " Movable Long Commutes Between Loved Ones, Music for Motors and Resonant Strings"
March 23rd Cal CNMAT "Positively Right On for Ava and John"
C N M A T
Live at The Luggage Store February 9th, 2012
Big Up Purple Maze Productions!
F O L K S
Design by A T U R G O R
Live From The Devil's Triangle: Volume 14
2011
B L A C K S P I R I T U A L S L I V E
Berkeley Arts Festival
Friday December 16th
w/ Blood Wedding
Ripping Highways
The Art of Worms
G I F T E D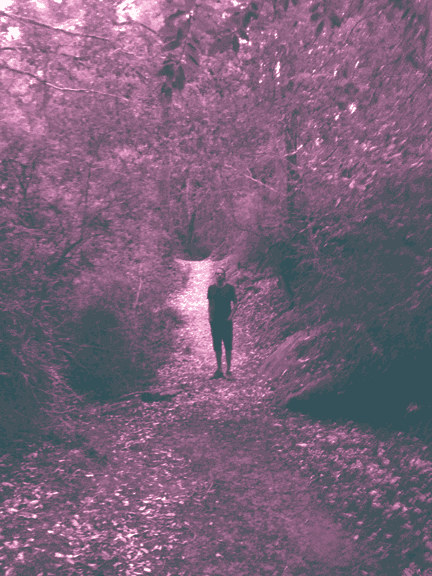 R I P P I N G H I G H W A Y S
SpiritJazzII by BlackSpirituals
NexMap 2011
September 11th
Royal Nonesuch Gallery
w/
Matt Ingalls
September 9th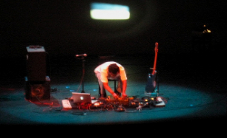 W E S T C O A S T : T O U R
Suite For String Quartet V
Featured on Touch Radio
July, 2011 Issue #65
May 6th
14th Annual Activating The Medium
Pictures Taken By
Peter BKaars
upcoming shows
April 27 @
pink canoes
@
hemlock tavern
w/
chen santa maria
April 22 or 23
Activating the Medium XIV
April 2nd Randy Lee Sutherland Birthday Bash
March 27 @ Life Changing Ministries w/ John Krausbauer-Agnes Szelag
March 14
John Butcher
and
Gino Robair
and Andre Marquetti @ UCSC

March 28
February 9
The Watchful Ear Review of
"Suite for String Quartet"
February 8
February 1
Novembre Magazine
Duane Pitre
Interviewed by Zachary James Watkins
January 30
Massimo Ricci Review

January 14
W I R E R E V I E W
January 4
2010
November 17
W I R E R E V I E W
by Jim Haynes
November 6
October 30

September 23
LOVE
movable,
long commutes between loved ones,
music for motors and resonant strings
"Movable" 4-2-10 Seattle Premiere Rehearsal Video from zachary watkins on Vimeo.
September 23-26
Music
For People
and
Thingamajigs
August 29
Suite For String Quartet
Live in Berlin 09-07-09
Confront Collectors Series ccs14
August 25
"P I N K C A N O E S"
Limited Release Cassette c60
sixtyhurts
August 20
el pochote
August 14
LA POCHA NOSTRA
Session Abierta
del Taller
Internacional de Performance
August 8
La Perrera Performance



August 2
"C O U N T R Y W E S T E R N"
Limited Edition SOLD OUT c43
Teosonite
July 23
"B L A C K S P I R I T U A L S"
Tape Cassette Release
on
The Tapeworm (UK)
Illustration - SavX
Available Through Touch Shop
June 5
Microsores Project Performed my composition "Any Other"
UCLA Hammer Museum
Listen to the first movemement
Microsores
May 25
Thingamakids
May 16
Remarks on Color/Sound
by
Stephen Ratcliffe
Performend
by
Suki O'Kane
Edward Schocker
Dylan Bolles
Zachary James Watkins
Cinco De Mayo
2 new pages:
movable, long commutes between loved ones, music for motors and resonant strings
and
Suite For String Quartet
May 2nd
G O D W A F F L E @ T H E L A B


April
photo by Lauren Cecil
Foxy Digitalis
Feature
on Duane Pitre
by yours truly
forthcoming release(s)
S U I T E F O R S T R I N G Q U A R T E T L I V E I N B E R L I N 2009
Confront
April 2nd
movable,
long commutes between loved ones,
music for motors and resonant strings


Tiffany Lin ~ Movement 2 from the archiver on Vimeo.
January 16
F L O S S A L B U M R E L E A S E C O N C E R T
The Chapel
4649 Sunnyside Ave. N
Seattle
8PM
2009
December 18
Pink Canoes
live
12-18-09
@
Cafe DuNord
KFJC 50th Anniversary
=====Free====
with:
Pink Mountain
Arrington De Dionyso
T.I.T.S.
Work
Al Qaeda
Seven Lies About Girls
NNNNN OOOOO WWWWW
sixtyhurts
November 9th
J U S T I N T O N A T I O N C O M P I L A T I O N
September 24-27
Music for People and Thingamajigs
September 11
Edward Schocker / Zachary James Watkins Duo
Internationales Klankunstfest 09
September 7
suite for string quartet
labor sonor
August 3
Awarded a Subito Grant
for the project
The Moving Type
in collaboration w/
Tiffany Lin
July 31
Pink Canoes play graphic score entitled Metaphysics of Notation by composer
Mark Applebaum
Stanford University Cantour Arts Center
12pm-1pm
July 18
suite for string quartet
LIVE @
THE LAB
VIDEO EXCERPT
June 25
Pink Canoes Live @
THE LAB
25th ANNIVERSARY KICK-OFF PARTY
May 30
April 30
pink canoes
Live @
The Luggage Store Gallery
April 25
Whysp
Live @
The Crepe Place
April 18
Moments Notice Series
w/ Edward Shocker, Suki O'Kane, Dylan Bolles
April 3
Solo Performance @
The Dead Cow Gallery
March 28
Golden Trapperkeeper Lodge Presents:
pink canoes
white leopard
italic indian
March 18
The Hemlock Tavern
Presents:
pink canoes
Gerritt Wittmer
Cenk Ergun
Noel Von Harmonson
March 13
March 5-10
P I N K C A N O E S PINK CRUZ C A L I F O R N I A C O A S T T O U R ! ! ! ! !
March 6 River Side @
The Pharaoh's Den
March 8 LA @
Echo Curio
W/
Warm Climate
&
Metal Rouge
March 9 Santa Cruz @
Blue Lagoon
February 28
Sound in Space Festival
Bay Area Lock-In
Aliens have nothing on this abduction. Performances and installations from our friends of the north. An all night rec center lock-in event. Come celebrate the last night of the festival into the wee morning hours. Works by Kadet Kuhne, Elise Baldwin, the Pink Canoes, Dave Holton and many others. Someone from the Bay Area will be in the Endurance Shed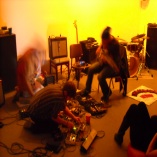 2008
December 9
I engineered a wonderful album recently released on Red Toucan Records!
Chris Brown/ Frank Gtratkowski/ William Winant Trio (2007)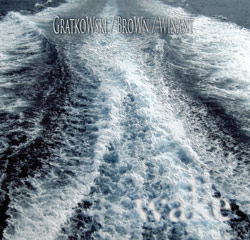 November 18
Tue 11/18 9:00 PM Uptown [1928 Telegraph Ave @19th St Oakland] 21 Grand presents 3rd Tuesday Avant Garde night:
Weasel Walter
ensemble (personnel tba); simon rose (saxes)/
Jen Baker
(trombone)/
Ava Mendoza
(guitar)/alex vittum (drums);
pink canoes
October 31
The Crepe Place 10PM 10$
mt.eerie
whysp
(a magical group that margaretha and I have the pleasure of playing with...)
October 15
The Stork Club 10PM 5$
Dance Card(OR)/TOFU/Seizure17(Philly)/Pink Canoes
September 30
Two Published Scores in South African Art Magazine
I T C H
!
September 18-21
11th annual music for people and thingamajigs
September 14
found print piece no.1 and no.2 added to the
nyme
online collection of graphic scores
Golden Trapperkeeper Lodge Presents:
visaviva
pink canoes
pykrete
The Warm Climate Big Band (w/ members of
VxPxC
)
1687 hayes st. san francisco. 94117 8PM-11PM
September 13th
12:00 PM------------------2pm - g|O|D|W|A|F|F|L|E||N|O|I|S|E||P|A|N|C|A|K|E|S : @ Artsf 110 Capp st black gate press 5-0-0 to buzz in san francisco, California +DOG+------------------VSLS--------------------------ZacharyJamesWatkins aka N****** = Nibbles-------------------------------Mr. Cluck
September 11th
Microscores Project
concert
7.30pm (US central time) in Omaha, Nebraska for the ArtsAHA! Festival.
view the concert online live
September 4
Pink Canoes Live at the
the knock out
August 23
sounds outside
FLOSS
featuring Zachary Watkins
August 9
henrymillerlibrary
Announcing the 2008 issue of Ping Pong, an international journal of arts and letters.
Ping Pong invites you to join the release party for its 2008 issue at the Henry Miller Library on August 9, 2008.
musical guest zacharyjameswatkins

July 18
mission creek music and arts festival
pink canoes
barnwave (w/kevin blechdom and christopher fleeger)
oaxacan
clovis heald
June 10
Premeire
For Ava and Noah; Positively Right On
meridian gallery

June 4-8
01SJ
A global festival of art on the edge in San Jose, Californiia
WE-C
June 6
human / nature
14 hour collaborative performance produced by Dylan Bolles
W/
Keith Evans
,
Michael Meyers
,
Stephen Ratcliffe
,
Edward Schocker
...and others...
>L I S T E N<

June 3
Pink Canoes Live at the
Hemlock Tavern
W/ Holly Caust and
Moe!
May 31
10pm-11pm
Solo performance on
KFJC
F O R T H C O M I N G
pink canoes
/
brown bird
split release on Brooklyn label
pendu sound
April 9
meridian music: composers in performance series
meridian gallery
press release
grauwald


April 21
21 grand:
Pink Canoes, Liz Allbee/Phillip Greenlief/Tatsuya Nakitani, Darwinsbitch
February 24
Premeire of New commission by Cornish College and the Seattle Chamber Players to write a new 5 minute work. This is part of "Breaking Barriers": Presenting a new composition by new music crusader and Cornish composer-in-residence, Frank J. Oteri as well as new works by Cornish alumni composers. I will be sharing this opportunity with Cornish alums, Eyvind Kang and Gretta Harley. Poncho Hall.
more info
January 5 - February 3
ReOrient Festival: I designed sound and composed new works for this years festival. I want to thank all of the amazing musicians and engineers who made my design possible:
Ostad Zoufonoun - Violin
Amir Zoufonoun - Voice / Tombak
Ramin Zoufonoun - Tar
Omeede Zoufonoun - Cello / Producer
Andy Strain - Trombone
Noah Phillips - Prepared Guitar
Fadi Sakr - Donbak
Barry Threw - Engineer
Leif Shackelford - Engineer
reOrient Theatre Festival
2007
F O R T H C O M I N G
FLOSS
new record recorded by
Aram Shelton
at Polymorph Studios in Oakland, CA. This is the second album I am producing for this psychedielic freejazz outfit.
Mixing by
Mell Detmer
F O R T H C O M I N G
thepinkcanoes are mixing our second album recorded by Norman Teale
F O R T H C O M I N G
thepinkcanoes first album "why do you think its shaped that way" recorded in 2005 by Norman Teale awaits its release....
September 28-30
Music For People and Thingamajigs Festival. Premeiere of a new piece for 8 tuned strings, interactive electronics, resonant space, an audience and vintage footage. Performed by Emily Packard(violin), Angela Hsu(violin) and myself(electronincs).
10th Annual Thingamaajigs Festival
September 24,28
Movements I and II of my Suite for String Quartet were featured on
Music From Other Minds #117
mfom
August 26
sfSound
premeire of:
Black Producer, White Producer;
Beat Making in the 90's
Specifically Tha Nine Tre (Summer 07) (3')
Commissioned by sfSound
May 7
The Somnubutone
(Past Online Radio Show) Original compositions to accompany dreams, hosted by Sarah Margaret Halpern
2005
March 4
Third Floor::Designed Obsolescence